RPA Career Opportunities
May 26, 2019
RPA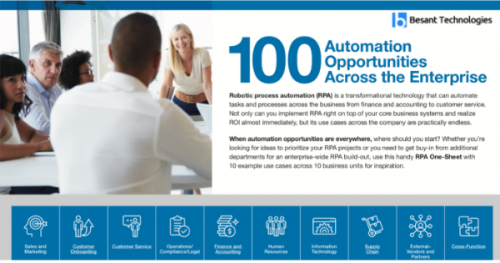 Introduction to RPA and Career Opportunities:
The RPA is the use of technology (ie software) that can automate business processes, such as interpreting applications, processing transactions, handling data and even responding to emails. In summary, Robotic Process Automation automates repetitive tasks, based on rules, previously done by human beings. So that you do not think that they will be household chores, McKinsey reports that up to 45% of the activities we do can be automated, and even some of the highest paid jobs can be at least partially automated, including the work of financial managers, doctors, and even CEOs.
The growth of the industry and the widespread adoption of the RPA also contribute to employment growth. Many types of jobs are available in the RPA, including developer, project manager, business analyst, solutions architect and consultant. In addition, you will find jobs for technology developers, process designers and RPA production managers. It is a field with many possibilities! Experts and experts will continue to analyze numbers and projections, but only time will tell what the jobs will be like at the end. However, we know that RPA and other IT jobs related to automation will be abundant. And this is a good time to start a career in the RPA.
Technical Responsibilities:
Candidates occupying the position of Robotic Process Automation must work predominantly in Business Process Automation, in accordance with the principles and standard conventions of the RPA.
Design, develop and implement RPA products for global clients in collaboration with global teams
Understand the scope, create and design the Business Process Framework
Develop a project design to implement the manufacturing processes
Creation and customization of automation solutions
Process of continuous improvement in accordance with the requirements updates • Orient the process of change management in the support to the existing processes and in the implementation of updates
Facilitation of the design of processes, validation rules and reports
Configuration of flows of processes, control objects, treatment of exceptions, etc.
Become an RPA Certified Expert in 25Hours
RPA positions:
The RPA is a hot field now, with companies aware of their potential in recent times. People with RPA skills have many opportunities to choose and enter the job that they favor the most.
Developer
Project manager
Architecture solution
Business analyst
Associate
Process consultant
The RPA is an expanding field in the current market. Many people are coming up with millions of ways to use the RPA, and there are many things to look forward to.
Curating the Clerical and Repetitive:
The RPA can take different forms. It can be highly customized for very specific types of processes in a company and therefore easily scalable throughout the organization. You can automate parts of a process, if not the entire process. Or it can be ready for use, but designed for a specific industry. As with other types of automation, the RPA frees employees to perform higher-value tasks. For example, retail workers can spend more time with customers. Agents can concentrate on complicated allegations. Doctors can spend more time with patients. Executives can spend more time with employees or investors. With the domestic tasks removed from the work day, employees can do a more meaningful job.
Future Scope for Robotic Automation Process:
There are high-level anticipations of the RPA in the near future.
Work works the recoding of data by its tools and automated techniques. In addition, repetitive data assembly jobs, the format of tasks that use a set of rules to follow the process can be easily executed using RPA.
Almost every type of process aided by the computer that uses a set of protocols for its Operations can be performed using the RPA.
In addition to the advances of the tools and techniques of robotics, it is expected that for some time the RPA can execute all the operations that a human does today.
Growth in the field of RPA is safe and, therefore, will provide greater technological potential to significantly reduce or bait vague regulatory reports, in addition to improvised analyzes and greater accuracy of data.